A Milestone in Successful Wine Grape Field Trials
ART'S PERSPECTIVE:
A Milestone in Successful Wine Grape Field Trials
as Conducted by the Dawson Company.
AgroThermal Systems 2012 Wine Grape Field Trials,
Enhancement of Wine Quality.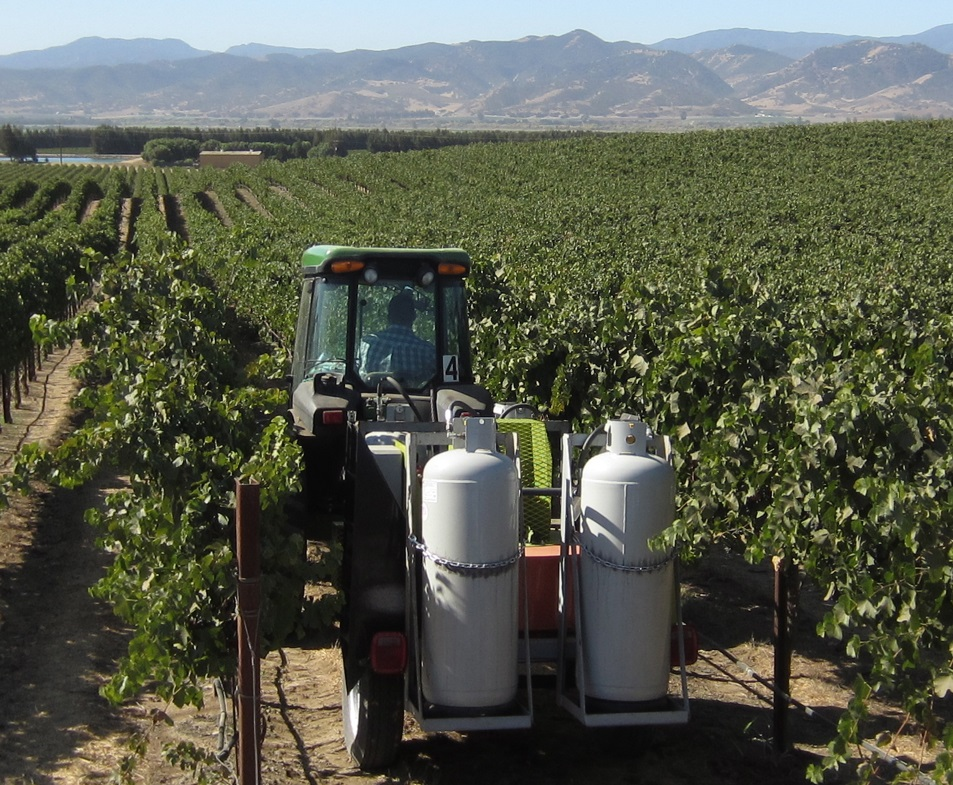 The Dawson Company consults for cutting edge technology providers in the area of strategic marketing, sales direction, and demonstration/efficacy field trials. AgroThermal Systems, The Dawson Company's client, has a very interesting technology. Their 'thermal treatment' technology deeply impacts plant physiological processes leading to, among other things, enhanced wine grape quality.
The results of AgroThermal's 2012 varietal wine grape field trials, assisted and conducted by The Dawson Company, were measured not only by the horticultural factors of plant yield and grape berry quality, but also by the impact on quality attributes from wine made from the same replicated trials.
Malbec variety grapes were selected for this trial due to the growing worldwide commercial interest in this particular variety. The treatments were made during the 2012 growing season and three key wine quality attributes were judged as the result of "thermal treatment" in Napa Valley, CA grown Malbec variety grapes.
The three key wine quality attributes measured were:
Enhanced flavor: "fruity" taste;
Enhanced aroma: "fruity" aroma;
Enhanced satisfaction: improved "mouth feel".
The Malbec grapes received weekly thermal treatments by AgroThermal System's heated air blast. After harvest, grape samples were subjected to micro vinification. Thermally treated and non-treated (control) grapes were converted into samples of wine at Fresno State University's Department of Viticulture and Enology.
Early this year, AgroThermal System's experts initiated "blind" wine tastings comparing wine produced from the grapes of the thermally treated vines to wines from the control or non-treated vines. To date, nine individual professional entities representing commercial organizations within the USA wine industry have participated in these taste tests. Each of these "tasters" noted that some wine samples have distinctly superior qualities which can be characterized as: more "fruity" taste, more "fruity" aroma, and an improved "mouth feel". In every case the superior samples were the wine produced from the thermally treated grapes.
Additionally, beyond the thermal treatment's enhancement of the key quality aspects of wine in this 2012 trial, several years of thermal treatment experience in New Zealand, Chile and Brazil have demonstrated exceptional savings in pest control costs. The added benefit of cost savings can be attributed to the IPM (Integrated Pest Management) related impacts from the periodic thermal treatment of hot/high velocity air as it disrupts the biosphere within the vineyard.
CONGRATULATIONS to the AgroThermal Systems Team for achieving such a MILESTONE!
More on the impact of 'thermal treatment' on plant yield, berry quality, berry numbers and input savings due to biosphere disruption, in the next editions of The Dawson Company Newsletter.
All the best,
Art Dawson, PH.D.

909 597 6077

_________________________________________________________________________________
Produce Quality & Food Safety
So Why is Heat Such a Big Deal?
Every organism has its own heat range for optimum growth. Wine grapes can be particularly picky, depending upon the variety. A premium bottle of wine can command a premium price – like a 1947 bottle of Chateau Cheval Blanc Vinfolio San Francisco that sold for over $33,000 in 2006.
Many grape growing areas, including California, are divided into certain regions depending upon their climates. This classification technique was devised in 1944 at the University of California, Davis, by A. J. Winkler and M. Amerine. The technique is called the Winkler Scale, and is based upon the sum of degree days over 10°C during the period of April 1 through October 31. The calculations result in five designated growing regions, appropriately termed I, II, III, IV and V.
Regions I (1,111-1,390 growing-degree days) and II (1,391-1,670 gdd) produce dry table wines with light to medium body. Region III (1,671-1,950 gdd) yields sweet and full-bodied dry wines. Region IV (1,951-2,220 gdd) produces grapes used in fortified wines which are those with added distilled spirits. Lastly, Region V is best for table grapes and it yields low quality table wine.
Wines from Region I include Chardonnay, Pinot Noir and Riesling. Region II produces Cabernet Sauvignon, Merlot and Sauvignon Blanc. Syrah, Zinfandel and Semillon come from Region III. Regions IV and V examples are Port, Barbera and Muscat. The above are general varieties produced and considerable overlap can occur.
From the preceding, one can readily ascertain that heat is an extremely important factor, and adjusting the micro-climate surrounding the grapes can aid in producing more consistent grape yields and quality. Coupling the knowledge of heat production to the knowledge of grape heat demand could also result in increased production of various grape varieties.
Turn on the heat machines!
Until Next Time,
Allan
Hartono and Company LLC
Produce Quality & Food Safety
808-345-3413

________________________________________________________________________________
About The Dawson Company
The Dawson Company consists of experienced, hands-on market and product development professionals. We create sales! Our clients include Agrichemical Registrants, Distributors and Technology Suppliers with "Need to Know" and "Need to Sell" priorities in pre-harvest and post-harvest markets.
909 597 6077