Wine Quality Enhancement via Thermal Treatment in the Vineyard
ART'S PERSPECTIVE:
the Dawson Company's remarkable client, Agrothermal Systems is bringing quality to the wine industries of the U S and New Zealand.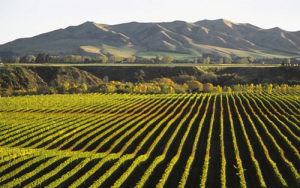 "Dream results from a wine quality perspective on the Cabernet Franc test with 20% more berries per bunch and significantly lighter weight per bunch giving us a much higher skin to pulp ratio. We saw both higher brix and lower acids. These are critical components to wine quality." This is from AgroThermal Systems' CEO, Martin Fischer, regarding 2012 results of New Zealand vineyard trials.
Dr. Art Dawson visited the New Zealand trials earlier this year. Based on observations in the field, the decision was made to have wine made from the Cab Franc thermal treated replicated test plots and the non-thermal treated test plots in the same vineyard. The test vineyard is the famous and historic Mission Estate Vineyard in the Hawke's Bay region of the North Island.
Martin Fischer says, "I can't wait to taste it and see an analysis."
Martin Fischer has kindly accepted our invitation to contribute an article to our newsletter. As CEO and Founder, he is the visionary driving force behind the AgroThermal System's sales and marketing programs. These programs are supported by an extensive vineyard demonstration program consisting of multi variety, replicated field trials in California, Oregon and Washington.
Martin Fischer's comments appear below:
2013 Heat Treatment Trials Underway
2013 will be a huge step up in proving the numerous benefits of Thermal Plant Treatment thanks to some very large development partners who committed to trials after seeing results from the work done in 2012. Trials are taking place in Washington, Oregon and California. 2012 was our first year of wine trials in the US and we intentionally limited testing to a few acres in Napa and Sonoma, CA in order to field test the new equipment design and verify fruit set and wine quality benefits. In Oregon, Adelsheim Vineyard, one of the leading Pinot Noir brands in the West experimented with the technology.
The 2012 "concept tests" showed that thermal technology increased fruit set when applied during bloom and in several varietals produced better quality wine. These results led to a much greater interest in TPT among the larger companies and far more aggressive trials are underway. This season at the Southern end of the Salinas Valley alone there are more than 30 acres dedicated to trials and the combined acreage controlled by just these growers is in excess of 25,000 California acres. In addition to expanding work from 2012 on Pinot Noir, Cabernet Sauvignon, Malbec, and Sauvignon Blanc we will be adding Merlot, Syrah and Chardonnay. Most of the growers involved in California are primarily interested in seeing increased fruit set and larger yields with a secondary goal being improved wine quality and chemistry. We are in discussions with Fresno State to monitor these tests by providing yield data as well as fruit quality and wine chemistry evaluations. This would be the second year in which FSU has been involved in evaluating the technology. In Washington testing is just beginning and the growers involved have asked Washington State University to provide evaluations as the season progresses
In Oregon, Adlesheim Vineyards will be expanding trials after initial testing in 2012. According to Chad Vargas, Production Manager at Adelsheim "In January and again in April we did a barrel tasting of the test and control Pinot Noir wine produced during the 2012 crop year and were encouraged by the differences we experienced. The TPT process had some distinct and subtle advantages in the glass and we are now expanding our use of the technology during the 2013 season." In my discussions with Pinot Noir growers in Oregon they are less interested in increasing yields on Pinot Noir, as they firmly believe larger yields often lead to inferior wine quality. It was interesting that Adelsheim got a 7% increase in yield on the TPT test block vs. control in and they got better wine as well. They and we are very excited about expanding our knowledge in 2013.
By Marty Fischer, Co-Founder and CEO of AgroThermal Systems.
All the best,
Art Dawson, PH.D.
909 597 6077
About The Dawson Company
The Dawson Company consists of experienced, hands-on market and product development professionals. We create sales! Our clients include Agrichemical Registrants, Distributors and Technology Suppliers with "Need to Know" and "Need to Sell" priorities in pre-harvest and post-harvest markets.
909 597 6077